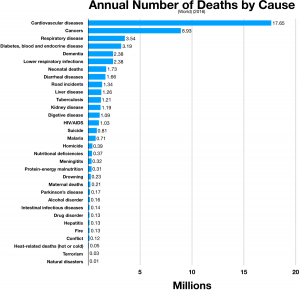 the graph above shows the causes of death worldwide in 2016.
Some 17.5m people die each year from Cardiovascular Diseases (CVD).
Today, the number of covid-19 related deaths worldwide is 1.33m.
We need to keep these numbers in mind and design appropriate strategies to reduce mortality from CVD which is the number one killer disease in the World.
More info can be found on chapters 7, 8 and 9 of our book
The Impact of Nutrition and Statins on Cardiovascular Diseases